Alanna Smith Publishing date: Jan 17, 2021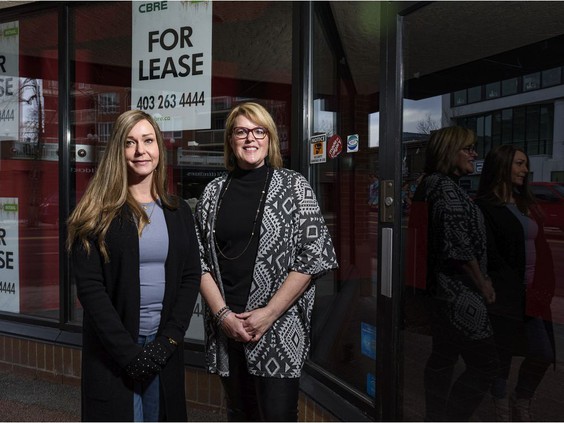 Dawn Fisher was just 13 years old when she was forced into sex trafficking by a local Calgary gang.
They threatened to go after her family if she didn't do what they said.
It lasted about a year.
"Being a young person and having multiple men, strangers, crawling on top of me — that was tough," remembered Fisher.
"There were times when I wasn't directly involved but I had seen some underground brothels where women, I believe from other countries, were forced into the sex trade. It was not a pretty picture. Really, what do you do in that situation? It's so scary because who do you go to? Do you put your life and your family's life at risk?"
It's a raw and difficult experience to put into words, but Fisher hopes her story can help others come forward and seek help without fear of judgment.
It's why she, alongside sex trafficking victim advocates Dana Burrows and Margaret Michaud, are unveiling a pop-up consignment shop to raise money and spread awareness about the global issue.
The idea came to be after Calgary business-owner Donna Riopel donated items to the group after closing two consignment stores due to COVID-19. It inspired them to open Pure Heart Trends, and space donated by Calgarians made it a reality, explained Burrows.
"It's almost like the universe made it happen," said Fisher.
Burrows said the grassroots initiative will raise money for workshops and prevention, while directly helping women who are being sex trafficked or working in the sex trade. They have also partnered with the YWCA Calgary to provide clothing to individuals in the Intensive Case Management Outreach program.
"When you come in, there's going to be information," explained Burrows.
"The whole point is to have an uncomfortable conversation."
She said the issue is rarely talked about despite it being a multi-billion dollar industry worldwide and taking place right here in Calgary.
"People need to talk about it," said Burrows. "It's unbelievable how many people have come to me and said, 'oh my god, my niece was trafficked' or 'my friend's daughter was trafficked.'"
Staff Sgt. Colleen Bowers, with the Alberta Law Enforcement Response Teams (ALERT) human-trafficking unit, said it's difficult to gauge how prevalent the issue is in Calgary.
"It's becoming more and more evident but the problem is they are such silent victims, so it's hard to say," said Bowers. "(Victims) are in a really impossible situation. They are very vulnerable and controlled by these people."
The ALERT team in Calgary, which is comprised of three RCMP officers and three Calgary Police Service members, focus their efforts on organized crime, related to individuals or groups involved in human trafficking.
Bowers said perpetrators essentially keep their victims hostage by alienating them from others, taking away their access to phones or bank accounts, extortion, drugging and through threats to pets and loved ones.
"They'll run these victims across Canada. These guys are smart … they'll only keep the victims — majority girls — here for a week or two and then they move them to the next location," said Bowers.
Last February, for example, a joint investigation between the Calgary and Quebec police departments resulted in charges against five people, three of whom were Calgary men, linked to human trafficking of female sex-trade workers.
Fisher said sex trafficking is a hidden issue, often "swept under the rug" because it's an uncomfortable topic laced with stigma. It's also difficult to come forward with claims, considering some of the people exploiting men and women are "pillars of the community," she added.
"It was a very shameful time for me," Fisher remembered. "I honestly didn't know how to approach or talk to anyone about this scenario. I felt like I was in the wrong, like it was my fault."
She said her hope for Pure Hearts Trends is building a community and a place to "empower, support and heal" those who have been subject to abuse, in any form.
The pop-up shop, at 1115 Kensington Road N.W., is expected to open in the coming weeks. But a long-term goal for the group is to find a permanent location for the boutique consignment shop, after six weeks of donated space runs out.
Anyone who is a victim of human trafficking and sexual exploitation or believes someone else is is asked to contact the police non-emergency number at 403-266-1234. Anonymous tips can be submitted through Crime Stoppers at 1-800-222-8477 or online at www.calgarycrimestoppers.org.
In the case of an emergency, call 911.
Twitter: @alanna_smithh